The 10 Best Blogs For Travel Agents and Tour Operators in 2023
Jan. 4, 2023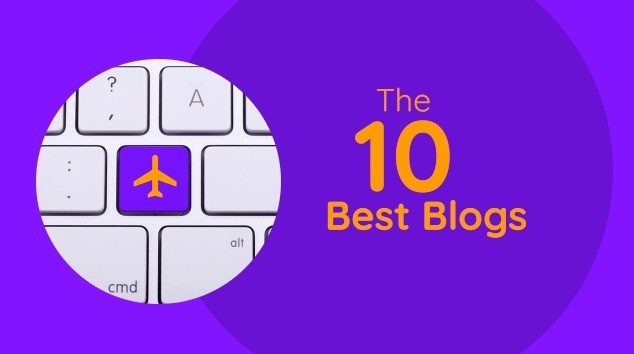 You know your travel niche well. Really well. 
You can rattle off all the 2023 Caribbean cruises that still have places available. Or organize the perfect honeymoon in any one of 50 European cities. Or list all the airlines that fly from New York to San Francisco – in your sleep. 
But no matter your professional skill, there will often be an item of breaking news in your niche that you just haven't heard about yet. And sometimes there will be developments in another travel niche that could critically affect your own.
How do you stay on top of what you need to know as a successful travel agent or tour operator?
Travel Blogs vs. Travel Industry Blogs  
Travel bloggers and their travel blogs fill cyberspace with detailed accounts of where they went and what they saw, heard, tasted, smelled and touched when they were there. Travel blogs can be a fun read for an armchair traveler or critical information for someone planning a trip to that locale. 
As a travel agent, travel blogs may on occasion provide some value or entertainment, but they're not a professional go-to. 
Blogs about the travel and tourism industries, on the other hand, make it their business to provide up-to-date news, research and insights. These are the blogs to be on top of if you are a travel agent or tourism professional.
We've brought you our picks for the 10 best blogs for travel agents and tour operators. Check them out! 
Travel Daily News is a news portal for the international travel market. Their homepage is exceptionally full, with many different sections; news updates, columns, features, research and more. The best way to get the most out of Travel Daily News is to use the dropdown menus to quickly reach your specific topic of interest, such as "Sea Travel," "Sustainable Tourism," "Technology," or "Interviews" with major players in the travel industry.

You can also use the "New Articles" button on the top left of the homepage to see a dropdown of articles published today.

Skift provides information and intelligence for travel and tourism professionals on many different levels: news articles, live conferences, research, and sector-focused newsletters. Their industry scope is very comprehensive, including coverage of consumer trends, transit developments, and national and international policies that affect travel and tourism. As might be expected from a higher-end publication, most of Skift's primary news content is located behind a paywall. You can get a few articles for free each month, but you will then be required to pay to access more. It's certainly worth frequenting the news page to skim the headlines, however. And you can also check out the Skift blog for shorter, free content.
Tourism Review provides detailed coverage of events and trends that are directly relevant to the tourism industry. Their homepage is a little busy (although not as busy as some), so for news updates, it is best to visit their news page. Tourism Review also has a "Top 10s in the Travel Industry" page, with posts that feature top destinations, attractions, or trends in specific niches.
Tourism Tribe breaks with most of the news-focused sites and zeroes in on the business of running a tourism business. Their travel agent blog is refreshingly practical, focusing on the tools and strategies you can use to successfully market your travel agency or tourism organization.
Travel Weekly is another news and updates site for the industry, covering hotels, cruises, transportation and destinations, plus special topics in travel like race and diversity. The homepage offers a lot of options, so we recommend making your first stop the News & Featured Destinations dropdown menu.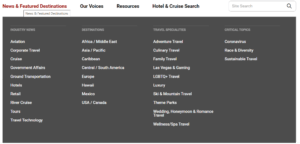 There you'll get a very clear idea and a one-click path to the specific topic you're interested in. Travel Weekly is also valuable for the opinion columns written by their editors and specialists.
Travel Pulse is a travel industry updates site with articles covering many aspects of travel and the tourism industry. We recommend starting with their news page, which is clearly divided into categories such as destinations, hotels, airlines and factors that impact travel. Travel Pulse also houses individual contributor blogs, usually focused on destinations, like the Saudia Arabia blog, or the New Orleans blog.
PhocusWire phocuses… er, that is, focuses on the technology that powers the travel and tourism industries. They cover travel technology developments, tools, startups and research. PhocusWire also has a section reporting financial earnings of significant travel and tourism-related companies. If you use technology for your bookings, planning, management, payments – and today, what travel business doesn't? – PhocusWire is worth following. 
Travel Agent Central offers articles with important industry information regarding hotels, cruises, transportation, destinations and other areas of insight. The homepage is well organized and designed, making it a positive, pleasant experience to browse through.
Travel Market Report covers travel industry news in different categories, like tours, cruises, hotels and destinations. The top articles in each category are featured on the homepage. Travel Market Report also offers tourism industry strategy and thought pieces, which differentiates them from other travel news sites.
Travel & Leisure lies somewhere between a travel blog and a travel agency blog. But their posts on trip ideas are so insightful and well put-together that even travel professionals can gain from them, so we felt it merited inclusion. Additionally, Travel & Leisure stands out for its yearly "World's Best" awards. These extensive rankings of top hotels, cruises and destinations help you keep your finger on the pulse of what your client base is likely to appreciate in travel experiences.
Ready, Set… Go!
The best travel agents and tour operators never stop learning. We consider it a good daily practice to skim the headlines on at least one travel agent news site, and then spend a little more time diving deeper into the articles or categories that are relevant to your particular industry niche.
Make 2023 a year to learn from the best travel agent blogs and develop yourself even more as a travel professional! 
Subscribe to our newsletter