The Top 10 Influential IT Professionals in the Travel Industry
Sep. 1, 2022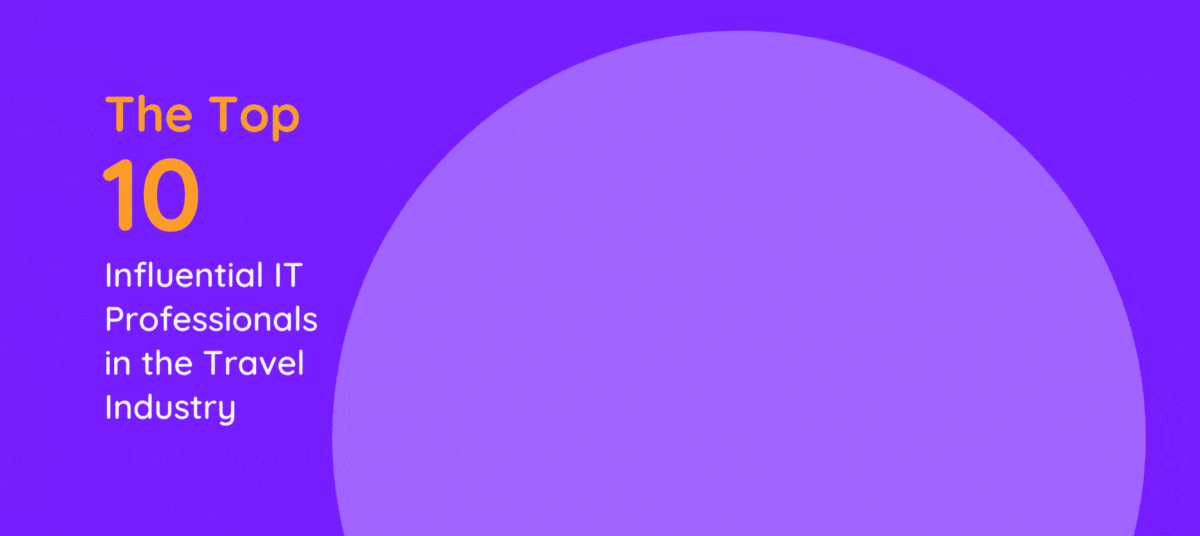 The importance of IT (Information Technology) in the travel industry has always been significant. But as the industry experiences a dramatic digital transformation, IT has become even more crucial to the scale and success of top tour operator companies. IT professionals from top travel agencies who have remained up-to-date in new technology trends are already implementing these solutions, providing unique and important value to these top travel agent companies.
Smart technology, AI and automation represent the new normal in the enterprise travel industry. In order to meet the needs of the modern, tech-savvy consumer and maintain a competitive edge, the best travel agencies in the world are upgrading their technology. 
IT Managers are vital to this process, as they are decision-makers and influencers when it comes to the technology choices at their companies. Here's a list of top IT leaders and the travel companies they work for.  
1. Martin Rausch, Director, Global IT Infrastructure and Support at G Adventures
In just 11 years, Martin Rausch transitioned from serving as G Adventures' Systems and Technical Support Expert to becoming its Director of Global IT Infrastructure and Support. 
G Adventures started out as a small group adventure and community travel company when it was founded by Bruce Poon Tip over 30 years ago. It quickly expanded and is now an enterprise with more than 2,200 employees in 28 offices worldwide. As a pioneer of community tourism, G Adventures strives to build meaningful connections with the communities it sends their travelers to visit. 
As a result, G Adventures' small group travel is more personalized on both the client and employee levels. In fact, it strives to employ local tour guides who are experts within their communities. To demonstrate how important they are, G Adventures refers to their tour guides as CEOs (Chief Experience Officers).
Robust technology is required to keep both the employee and customer sides connected, which is not easy to do when you consider how much G Adventures has grown. 
But Martin Rausch's experience has paid off. Passionate about technology and people, he keeps up to date with the latest technology solutions, processes and best practices. In the last 11+ years, he has overseen the incorporation of many different technical solutions across G Adventures' IT landscape in the following functional areas of IT: IT Infrastructure, DevOps, IT and Application Support, and IT Security and Compliance.
2. Tobias Raab, Group Head of IT, Tour Partner Group
Based in Regensburg, Germany, Tobias Raab has been involved in the leisure travel and tourism industry for more than 15 years. Currently, he leads a team of 25 internal and external IT and Application specialists at various sites. He has vast experience in enterprise framework, change management, customer service, IT-server and clients' infrastructure in addition to telecommunication systems and network security.
Tour Partner Group is a B2B tour operator and destination management company that focuses on Northern European travel. A one-stop shop for tours in the United Kingdom, Ireland, the Nordics and Baltics, Tour Partner Group arranges more than 25,000 tours annually and works out of six offices in London, Edinburgh, Dublin, Copenhagen, Santa Rosa and Phoenix. Their additional services include large group and small group travel, FIT, MICE and B2C travel.
As Group Head of IT Infrastructure, Applications, Projects and Data Management at Tour Partner Group, Tobias Raab is instrumental in maintaining and upgrading the company's technology so it can better serve its employees and customers.
3. Ayelet Hazoot, IT Operations Manager at American Express Global Business Travel in Israel
As IT Operations Manager at American Express Global Business Travel in Israel, Ayelet Hazoot plays an influential role in leading business travel IT. She is responsible for the technological innovation and advancement of the organization. 
American Express Global Business Travel Israel uses advanced automation technology to help its clients better manage, track and predict travel spending. It also provides risk management systems, ensuring security for travelers all over the world, all day, every day in real time.  
In 2010, American Express Global Business Travel Israel was recognized within the global partner network of American Express. It's now among the ten partner markets worldwide, working with multinational business and tourist travel companies. 
4. Salvador Joval, Head of IT Sourcing and Security at TUI Musement
Salvador Joval is the Head of IT Sourcing and Security at TUI Musement in Palma de Mallorca, Spain, but he's been a part of the TUI orbit for more than 20 years. TUI Musement is a branch of the TUI group, which utilizes a state-of-the-art digital platform. In a constant state of evolution, TUI Musement and Joval strive to be at the forefront of technology implementation by using advanced distribution platforms and artificial intelligence-enabled customer service.
TUI Group is headquartered in Germany and operates worldwide. Its portfolio under the Group's umbrella includes 1600 travel agencies and online portals, five airlines, over 400 hotels and 16 cruise lines as well as many agencies at destinations around the world. 
TUI Group values and implements the most advanced travel technology, while also keeping sustainable tourism as another one of its central values. It actively supports this value within its own operations, across its supply chain, and within the industry and communities where it operates. 
5. Juan Valverde Mora, Head of IT Leisure Travel at Viajes El Corte Ingles
Juan Valverde Mora has been working as part of Viajes El Corte Ingles's IT team for more than 6 years. Now, as Head of IT Leisure Travel, Mora is a key player in this vast travel organization with an extensive network. Mora leads the technological advancement of the organization and on top of that, is known to be an excellent team-player. 
Viajes El Corte Inglés Group has 1,200 associated agencies in Spain and 2,000 worldwide. These agencies cover every travel segment: bed banks, holiday experiences, business, MICE, etc. Viajes El Corte Inglés Group also supports a tourism model for sustainable development. 
6. Antonio Monteiro, IT Director at Viagens Abreu
Antonio Monteiro recently joined Viagens Abreu as IT Director after building an impressive portfolio in IT management across various industries. His focus has always been to drive growth objectives and business sustainability through technology. Through formal and informal learning, he keeps himself updated regarding IT trends, innovation and digital transformation.
Established in 1840, Abreu is not only the world's oldest travel agency, but it's also the largest travel organization in Portugal. It has offices in Portugal, Spain, the US, UK and Angola. As the company expands with Antonio Monteiro on board, it continues to upgrade its infrastructure for communications and technology. 
7. Miguel Angel Martínez Carrasco, IT Director at Hotelbeds Group
Miguel Angel Martinez Carrasco is the IT Director at Spain's Hotelbeds Group. As IT Director, Carrasco's goal is to use technology effectively to support the ultimate goals and processes of the company. To that end, he tracks new technology opportunities and processes to increase user satisfaction, improve performance and eliminate security risks. 
Hotelbeds is the world's leading bed bank, providing over 180,000 hotels across the globe with access to distribution channels that significantly increase their occupancy rates (without competing with the hotelier's direct distribution strategy).
In addition, Hotelbeds is also the world's largest B2B seller of travel-related offerings including 24,000 transfer routes, car hire and 18,000 activities. It also provides both hoteliers and travel distribution partners with an AI automation platform and powerful tools to easily integrate its high-margin products.
Hotelbeds is based in Palma, Spain and employs 3,000 staff members globally.
8. Jonathan Rook, Head of IT at Diversity Travel
Jonathan Rook has been Head of IT at Diversity Travel for the last three years after building an impressive resume in different IT roles and businesses since 2006.
Based in the UK, Diversity Travel is an award-winning independent travel management company specialising in the humanitarian, academic, missionary and not-for-profit sectors. Diversity Study Trips create specialist educational tours for the academic sector.
Its unique online portal enables customers to search and select flights and hotels on their own, create their own profiles and customise reports. By overseeing features such as this one, Rook is keeping Diversity Travel at the forefront of technological innovation in the travel industry. 
9. Aaron Hall, Global Head of IT Operations at Reed and Mackay
Aaron Hall has been providing exceptional IT support to companies since 2002. He started out as an IT Support Engineer and worked his way up the ladder. Just seven months ago, he was promoted to Global Head of IT Operations at Reed and Mackay Travel based in London, UK. Under Hall's supervision, Reed and Mackay Travel boasts modern, advanced technology offerings, including a mobile booking app, a global management portal, automated fare and rate checkers, and more.
Reed and Mackay began as a family business 60 years ago, specialising in travel for financial, legal, insurance, energy and media sectors. It now comprises 4,000 travel experts around the world and has a buying power in excess of $5 billion, serving 52 markets. With its personalised customer service and powerful technology platform, 80% of Reed and Mackay's new business comes from client recommendations.
10. Jose Antonio Colomar, CIO, Director IT at Globalia Sistemas
Jose Antonio Colomar is an IT strategist that brings both technical and economic perspectives to his work. From project planning to implementation, Colomar ensures that his team works efficiently and on schedule. He also supervises technology compliance and manages quality control.
As IT Director for Globalia Sistemas, Colomar stays busy. Globalia Sistemas is the first Spanish tourism group, with an annual turnover of more than 4,000 million euros. As an umbrella group for independent companies, it has the resources to provide high-quality and cost-effective services to its customers.
Just forty years after opening, Globalia serves more than 13 million customers in more than 30 countries.
Redefining travel technology
The top travel tour companies are hiring experienced IT leaders and professionals to ensure that their businesses are continuing to grow and evolve as technology does. 
They're designing and implementing new tech solutions by rethinking present infrastructure, redefining customers' needs, and focusing on security. IT Directors are leading the transformation, bringing AI and automation to international tour operators and travel agencies.
Subscribe to our newsletter